Sell Your Car To Bachman Chevrolet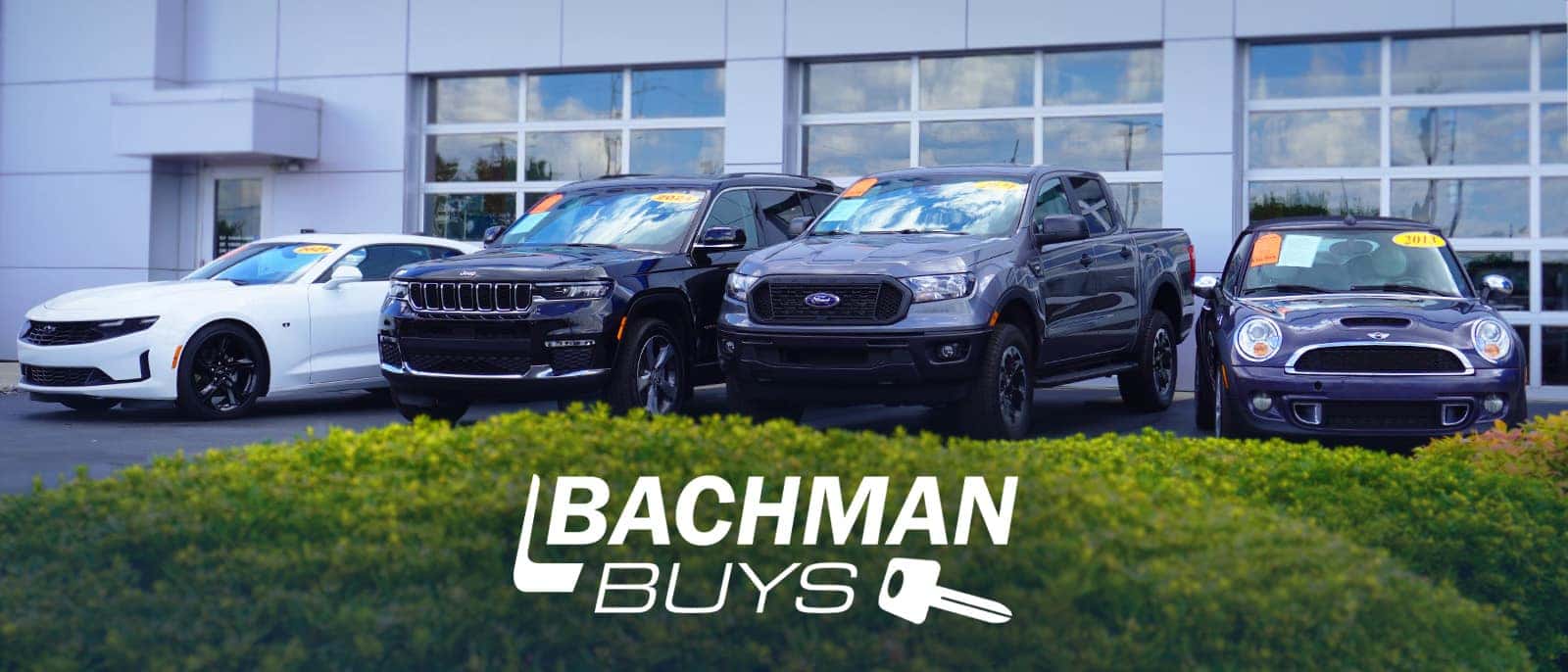 BACHMAN BUYS USED CARS
There's a lot of confusion regarding a trade-in and Bachman Buys, so we asked our finance experts to explain how the Bachman Buys program works.
The Bachman Buys Program
At Bachman Chevrolet, we offer top dollar for your car, and you don't need to purchase another vehicle from us. However, some conditions apply. First, you must have the title in your name. If you've lost your title, we can get you a duplicate for a small fee. Second, your car must run and be street-legal. We don't purchase modified vehicles that can't be registered. Last, if you still have an existing loan, we'll need the banking information to complete a deal and pay off your loan.
You have two options to get started. One, you can select the Sell Your Vehicle button. Tapping this button brings up a contact information form. Please fill this form out, and one of our finance managers will contact you to get started. Our finance manager will ask relevant questions regarding the year, make, model, mileage, and vehicle condition.
Or you can start the process online using our Instant Cash Offer tool powered by Kelley Blue Book. In this scenario, you provide answers to the same questions above regarding your car. Once complete, you'll receive your Instant Cash Offer in minutes.
Either way, you'll need to bring your vehicle in and have one of our appraisers inspect your car. We base our offer on the information you provide, so it's essential that you accurately describe your vehicle's condition and mileage. Overstating the condition or understating the mileage can significantly impact your offer. After confirming the details you provided, we'll certify the offer. At this point, we process the paperwork, including any existing loan payoff, cut you a check, and you give us the keys to your old vehicle. Getting cash for your car has never been easier.
Benefits of Selling Your Car to Bachman Chevrolet
For starters, we've made the process simple with our online tools. You can complete the online form from the comfort of your living room and schedule your inspection at a convenient time. And, because we sell so many cars, we pay more for your vehicle because we need the inventory. Smaller dealerships may offer to buy your car, but they often can't afford to give you what you want because they don't have the sales volume we do.
We admit that selling your car in a private transaction will net you more money. That's an inescapable fact. However, many of our customers return to us frustrated by the process. First, selling directly to us eliminates paying for costly advertisements. You also save time by not having to field numerous calls to answer countless questions or meet prospective buyers who want to see and drive the car, which intrude on your work and personal life. In addition, you avoid the frustrating lowball offers and other unsavory negotiation tactics.
Finally, you don't have to worry about processing the sometimes-complicated paperwork necessary to sell your car. We handle all of that for you. We have no problem if you choose to go this route and sell your car privately. However, many of our customers return to us afterward, wondering why they bothered in the first place. Our Bachman Buys program offers a fair price without any hassle.
Car Buying Tips
If you sell your car at our Chevrolet Dealership in Louisville, KY, chances are you'll need to purchase another one. So, we offer you some car-buying tips to help, whether you're buying from another dealer or us. First off, you need to figure out a budget. If you have the cash saved, you know exactly what you can afford, but be sure to account for the sales tax and fees for things such as registration.
Car financing has advantages, particularly if you don't have much money for a down payment. Our finance managers have decades of experience finding loans for buyers in all credit categories. We've nurtured partnerships with local and national lending institutions that we leverage on your behalf. You'll get multiple loan offers from us, allowing you to choose the deal that makes sense for you.
Of course, your monthly payment must fit into your budget. However, don't forget to account for insurance, fuel, and maintenance costs. You don't want to end up with your dream vehicle and not have the money in your budget to enjoy a night out with friends or a weekend getaway because you didn't factor in these expenses.
Bachman Chevrolet's finance portal offers several convenient tools to help you. We have a payment calculator to assist you with your shopping. This tool allows you to adjust your loan amount, interest rate, and terms to determine monthly payments. You'll know what you can afford, which saves you time by not looking at vehicles outside your budget.
We've streamlined the financing process with our online loan application. You'll receive your loan approval in minutes, including your interest rate, terms, and monthly payment. Plus, we've added our trade-in evaluation tool to help you accurately assess your car's value.
Sell Your Car to Bachman Chevrolet Today
If you want to receive the most money for your car but don't want the hassle of a private sale, consider selling to our Chevrolet dealership. You can start the process with our Instant Cash Offer online or stop by our dealership at your convenience. One of our friendly, professional staff will walk you through the process and, in less time than you might think, hand you a check.
Mon - Fri

9:00 AM - 7:00 PM




Sat

9:00 AM - 6:00 PM




Sun

Closed
Mon - Fri

7:30 AM - 6:00 PM




Sat - Sun

Closed
Mon - Fri

7:30 AM - 6:00 PM




Sat - Sun

Closed
Mon - Fri

8:00 AM - 5:00 PM




Sat - Sun

Closed
Mon - Fri

9:00 AM - 6:00 PM




Sat

10:00 AM - 3:00 PM




Sun

Closed